Massachusetts town says yes to Guantánamo detainees
The small college town of Amherst, Mass., voted to accept detainees released from the Guantánamo detention camp in Cuba. Congress has previously voted that Guantánamo detainees will not be allowed to settle in the US.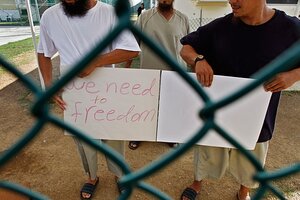 Brennan Linsley/AFP/Newscom/File
A college town in western Massachusetts is the first municipality in the US to say it will accept into the community detainees cleared for release from the Guantánamo detention camp – if Congress will only repeal its ban on resettling any such detainees on American soil.
The move came Wednesday night in Amherst, Mass., on a voice vote of town meeting members. The town is also now officially on record as urging Congress to lift its ban on moving cleared detainees to the US – and has gone so far as to identify two detainees it would like to welcome to Amherst.
The town, home of Amherst College and the University of Massachusetts, Amherst, is "an international community," says Ruth Hooke, a resident who sponsored the resolution. "We have a very large mosque here. Both of the men are Muslims so they'd be able to attend that mosque. They are young men. Presumably, they have the ability to work."
The two detainees Amherst is eyeing are a former ballet dancer from Russia, the only non-Arab still held in Guantánamo, and a soccer player from Algeria, an accountant cleared of wrongdoing several years ago. Algerian Ahmed Belbacha remains in US custody because no country will take him and because it is unsafe for him to return to Algeria, where his attorney says he was previously threatened by an Islamic group, the GIA.
---