Fort Hood tragedy seen through personal political lenses
Was alleged Fort Hood attacker Nidal Malik Hasan a 'radical Muslim terrorist,' or had he been experiencing 'Pre-Traumatic Stress Disorder'?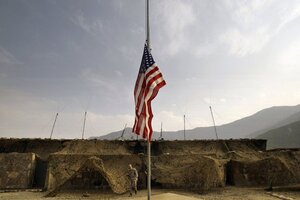 David Guttenfelder/AP
The tragic shooting at Fort Hood, Texas, shouldn't have a political dimension to it. Yet within hours it was being portrayed that way.
From one side, the alleged shooter -- Maj. Nidal Malik Hasan, an Army psychiatrist -- is a victim of "Pre-traumatic Stress Disorder" who flipped out because as a doctor treating combat veterans he had to deal with the horrors of an unjust war. From the other side, he's a Muslim terrorist, an Arab (though born in the United States) plotting and carrying out his own murderous jihad.
In his radio address Saturday, President Obama urged Americans to see beyond the ethnicity of the alleged attacker. Speaking of those serving in the US military, he said:
"They are descendants of immigrants, and immigrants themselves. They reflect the diversity that makes this America. But what they share is patriotism like no other. What they share is a commitment to country that has been tested and proved worthy. What they share is the same unflinching courage, unblinking compassion and uncommon camaraderie that the soldiers and civilians of Fort Hood showed America and showed the world."
---
Follow Stories Like This
Get the Monitor stories you care about delivered to your inbox.