On healthcare reform, House lawmakers get past the abortion hurdle
To pass a healthcare reform bill, addressing abortion is necessary in order to get the support of conservative Democrats. Lobbyists for Catholic bishops were part of the negotiation.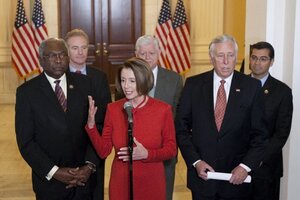 Alex Brandon/AP
When President Obama arrived at the Cannon office building Saturday to rally House Democrats for a historic vote on healthcare reform, he was met with anti-abortion protesters, chanting, "Kill the bill! Kill the Pelosi bill!"
But they were too late. The issue that could have broken the drive toward comprehensive healthcare reform in the House had been settled just hours earlier.
On the eve of the vote, some 40 Democrats had been holding out for stronger language in the bill to ensure that no taxpayer dollars be used to fund abortion services. Various accounting devices had been proposed to isolate the federal funding, but that wasn't enough.
Negotiations over a stronger amendment went late Friday evening. A half dozen lobbyists for the US Conference of Catholic Bishops joined negotiators in Speaker Nancy Pelosi's office to come to terms. There was a deal; then, an hour and a half later, it fell apart. Then, Speaker Pelosi stepped in. At the direction of leadership, the House Rules Committee after midnight agreed to allow a vote on an amendment that explicitly bans federal funding of abortions through the new exchanges created by the law.
---