US House of Representatives votes to approve healthcare reform
The House voted 220 to 215 in favor of healthcare reform. But Saturday night's vote also signals tough negotiations ahead in the next phases of the legislation.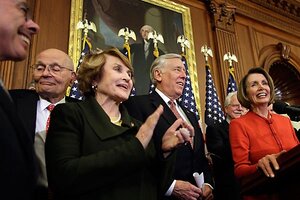 Yuri Gripas/Reuters
After a vote that went down to the wire, House Democrats cheered a vast overhaul of the US healthcare system early Sunday morning. In a phone call to House leaders, President Obama called it "a great victory for the American people."
The $1 trillion-plus measure could add some 36 million people to the ranks of the insured by expanding the scope of Medicaid, creating exchanges where individuals could shop for insurance, and including a public option – a government-run insurance plan that would compete with private insurers. The legislation would also ban insurance companies from refusing or dropping coverage on the basis of health status.
Under the terms of the bill, which passed 220 to 215, individuals would be required to purchase health insurance and employers to cover their workers, with penalties for noncompliance. Costs would be covered by a surtax on high-income Americans and by reducing costs, especially in Medicare.
But Saturday's vote signals tough negotiations ahead in the next phases of the legislation, including a potential conference between House and Senate versions of the bill. The Senate has yet to take a full vote on health reform, but if it does pass legislation, that version is expected to differ widely from the House's.
With one lone Republican vote Saturday, freshman Rep. Anh "Joseph" Cao of Louisiana, House Democrats can expect little help from the minority. In the run-up to the vote, GOP whip Eric Cantor of Virginia predicted that Speaker Nancy Pelosi would "get no help from us in passing this gargantuan, trillion-dollar overhaul."
---