Jury selection key in trial of Baltimore mayor Sheila Dixon
Prosecutors say Baltimore Mayor Sheila Dixon stole more than $1,000 of gift cards to buy a PlayStation2, among other things. Jury selection began Monday, and the jury's racial composition could determine who wins the case.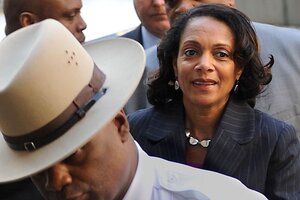 Jed Kirschbaum/Baltimore Sun/AP
The criminal trial of Baltimore Mayor Sheila Dixon opened in city court here today, with lawyers beginning a grueling
jury selection process in a case that has captivated city residents for nearly four years.
Mayor Dixon, who took the city's top office in January 2007, is facing seven charges of theft, misappropriation of fiduciary duty, and misconduct in office. Prosecutors say she stole more than $1,000 worth of gift cards donated by developers for the city's needy residents, using them to buy herself items at Target, Toys "R" Us, Old Navy, and Best Buy – including, according to court documents, a PlayStation 2, a digital camcorder, DVDs, and CDs.
"The citizens of Baltimore have every right to expect their public officials will be open and honest and will not use the office for personal motives, gain or greed," state prosecutor Robert Rohrbaugh said while announcing the indictments early this year.
Dixon has repeatedly denied the charges. Her attorney told circuit judge Dennis Sweeney – a retired judge from another county specifically appointed for the city hall cases – that she was pleading not guilty to "each and every one" of the counts against her. The attorney, Arnold Weiner, has also publicly described the indictment against Dixon as "ludicrous."
---