Are Democrats nearing civil war over healthcare reform?
Two major left-leaning activist groups are threatening to work against Democrats who vote against a public option or for abortion restrictions in healthcare reform legislation.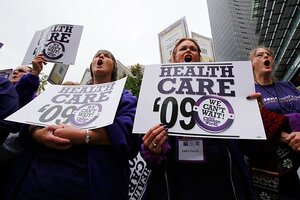 Elaine Thompson/AP/File
Three days after the House's historic passage of comprehensive healthcare reform, Democrats are grappling with the downside of being a "big tent" party: Their coalition is diverse, and internal tensions rise to the boiling point when major legislation is on the line.
MoveOn.org Political Action, a key organizer on the left, is now taking aim at conservative House Democrats who voted against health reform. The group is spending $500,000 on ads against several such Democrats, who represent Republican-leaning districts and are seen as highly vulnerable to a GOP challenge in the 2010 midterms.
Looking ahead to a tough healthcare vote in the Senate, MoveOn has also raised more than $3.6 million to fund primary challenges against "any Democratic senator who blocks an up-or-down vote on healthcare reform with a public option," the group said in an email to members last week. One of MoveOn's nonnegotiables is that health reform includes a new government-run insurance plan, or public option, that would compete with private insurers.
On Tuesday, Senate majority leader Harry Reid told reporters that he expects to bring healthcare up for debate next week, and believes he can pass legislation by the end of the year.
The abortion divide
The abortion issue has also produced a schism in the Democrats' health reform drive. At the 11th hour last Saturday, the House passed – with significant backing from anti-abortion Democrats – an amendment that would limit access to abortion services in any new insurance marketplace.
NARAL Prochoice America is now threatening to support challengers in Democratic primaries, an unusual step for the group. And more than 40 House Democrats, all supporters of abortion rights, have promised to vote against the final version of the legislation if it includes the anti-abortion language that was approved last Saturday.
---