Poll: California voters would rebuff budget reforms
California voters are unhappy with the state government but in no mood to approve reforms that would improve its performance, a new poll finds.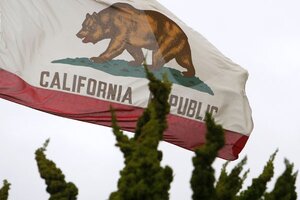 Lucy Nicholson/Reuters/Files
California voters would strongly reject the reforms most likely to put an end to its chronic budget woes, a new poll finds.
Two reform groups are pushing for a suite of changes intended to solve the structural problems that puts California tens of billions of dollars in the red in every downturn. They include:
• Overhauling the state income tax to make it less volatile in times of boom and bust.
• Changing the state Constitution to allow the budget to be passed by a simple majority. It currently must be passed by a two-thirds majority.
• Revamping the 31-year-old groundbreaking initiative, Proposition 13, which limits property-tax increases. Since local governments get a large share of their money form property taxes, Prop. 13 results in many local issues – such as schools – being passed on to the state.
But a new Los Angeles Times/University of Southern California poll finds lukewarm support – or strong opposition – to all of the above.
"Voters are in a 'no thank you' mood right now," says Jessica Levinson, an analyst at the Center for Governmental Studies in Los Angeles. "Voters are dissatisfied with incumbents, and more broadly established governmental institutions, yet they are also not in a reform state of mind."
---