Lou Dobbs out - what next for CNN's controversial anchor?
Lou Dobbs says he won't leave the public arena. Like Glenn Beck, will he jump from CNN to Fox News? Maybe run for public office? Stay tuned.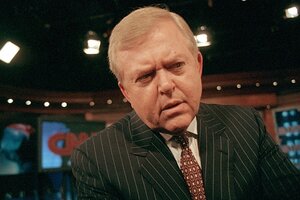 Frances M. Roberts/Newscom/File
Lou Dobbs, an anchor at CNN for 27 years, is picking up his populist marbles and going … elsewhere. For now, Mr. Dobbs has left his options open, but he made one point clear: He is not leaving the public arena.
In his surprise departure statement, delivered on his last cable-cast Wednesday evening, Dobbs asserted that "some leaders in media, politics, and business have been urging me to go beyond the role here at CNN" and remain involved in "the great issues of our day."
The suggestion was that Dobbs had resigned and was not fired, though his presence on the network had seemed increasingly out of step with its push for neutral reporting.
Dobbs is best known for stirring controversy on illegal immigration and, most recently, raising questions about President Obama's citizenship. On both CNN and especially his radio show, which is not affiliated with CNN, Dobbs fanned theories that Obama was born abroad, causing consternation within CNN. Network president Jon Klein reportedly suggested to Dobbs that he cool it on the sharp opinions.
A lightning rod for liberals
Liberal media watchdogs have long been on Dobbs's case. And Dobbs revealed on his radio show last month that a bullet had struck his home, while his wife stood outside, and that he had had "weeks and weeks of threatening phone calls."
---