Bauer to be White House counsel, amid snags on terrorism policy
Robert Bauer, Obama's personal lawyer, will replace Gregory Craig, who took flak for his work on terrorism issues like torture and Guantanamo prison closure.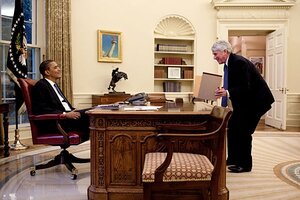 Pete Souza/Rapport Press/Newscom/File
The resignation announcement Friday of Gregory Craig, chief counsel at the White House, points to the larger challenges the Obama administration faces in carrying out its terrorism policies, including the promised closure of the Guantánamo Bay prison camp.
In particular, Mr. Craig had faced criticism for his handling of the politics around Guantánamo, which included legislation by Congress that bars the administration from moving detainees to the United States. Detainees can now come to the US only for prosecution, which is why the Justice Department is allowed to try alleged 9/11 mastermind Khalid Sheikh Mohammed and several other prisoners in New York City.
Craig had also drafted the executive order banning torture and recommended the release of Justice Department memos describing "enhanced interrogation techniques."
Some analysts have called Craig a fall guy for the troubles the administration has had over terrorism issues, particularly the closure of Guantánamo, which is unlikely to take place by Jan. 22, 2010. On his first full day in office, President Obama signed an executive order requiring that all the prisoners be out within one year.
---