Former Rep. William Jefferson sentenced to 13 years in prison
Former Rep. William Jefferson will appeal the case. His attorneys claim the sentence is unduly harsh compared to other political corruption convictions.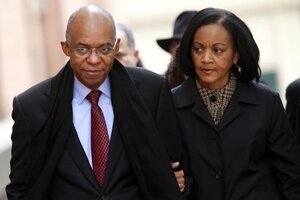 Jacquelyn Martin/AP
A federal judge sentenced former Rep. William Jefferson, (D) of Louisiana, to 13 years in prison for his conviction on corruption charges that famously included hiding cash in his home freezer.
Prosecutors had asked for a term of 27 to 33 years under federal sentencing guidelines. The request was significantly longer than for other congressmen in recent scandals. Defense lawyers had sought a term of less than 10 years. The 13 year sentence, which Jefferson's lawyers have 10 days to appeal, is believed to be the longest ever given to a former member of Congress.
Jefferson, who represented part of New Orleans, was convicted in August on 11 of 16 federal charges of bribery, fraud, money laundering, and racketeering. He was also the first sitting member of Congress to be charged with violating the Foreign Corrupt Practices Act. Jefferson tried to bribe the then-vice president of Nigeria. Some $90,000 of that bribe was found in Jefferson's freezer when federal agents raided his home.
A judge's tough words
In imposing the sentence Friday afternoon in a courtroom in Alexandria, Virginia, Judge T.S. Ellis III said Jefferson's conduct was "a cancer on the body politic."
On the advice of his attorney, Jefferson declined the opportunity to make a statement at his sentencing, and he remained silent because he plans to appeal his conviction.
---