More than just a holiday now, Veterans Day has become every day
With two wars and the recent attack at Fort Hood, there's more public concern about the treatment of vets. The Obama administration and Congress are doing something about that.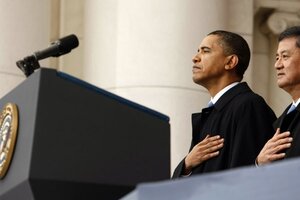 Kevin Lamarque/Reuters
It's another 300-plus days until next Veterans Day, a holiday most Americans traditionally have seen as a day off from work.
But this year was different, coming as it did in the middle of two lengthy wars, just days before it was announced that the alleged "mastermind" of the 9/11 terrorist attacks that launched those wars was to be tried in New York City, and just days after a murderous rampage at the Army's Fort Hood in Texas where soldiers prepare for war.
As a result, it seems, Veterans Day is becoming every day. President Obama alluded to this in his Saturday radio address.
"We owe our troops prayerful, considered decisions about when and where we commit them to battle to protect our security and freedom, and we must fully support them when they are deployed. We also owe them the absolute assurance that they'll be safe here at home as they prepare for whatever mission may come."
He was speaking specifically of Fort Hood, but the political and military establishment -- and American society generally -- are learning that safety for service personnel also means being adequately provided for between deployments and when the war is over for them.
As the country enters the ninth year in a "war on terror" that has two major fronts, the needs are growing greater.
---