Does US need a second stimulus to create jobs?
With the economy still in rough shape, calls mount for extra infusions of federal money. But critics say the first stimulus hasn't created the jobs it was supposed to.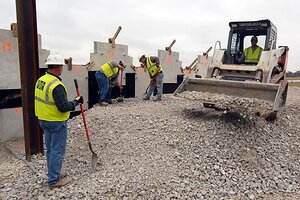 Mike Gullett/AP
The economic stimulus package approved in February is the biggest recession-fighting effort in US history, but the question after nine months is whether it is big enough to bring back lost jobs. Money is rippling from the federal government throughout the economy at an accelerating pace. The $787 billion American Recovery and Reinvestment Act has allowed California's public schools to retain thousands of teachers, paid for contractors to repair dikes and levees on the Mississippi River, and employed workers who are installing new runway lights at Boston's Logan Airport, to name a few examples. It is financing nascent industries such as alternative energy even as it allots more money to address lingering problems like cleaning up hazardous waste at nuclear-weapons sites.
Yet the US economy remains in rough shape. The recession may be officially over, but Americans are still waiting to see that translate into job growth. Unemployment continues to creep upward, and has now reached 10.2 percent of the labor force.
That jobless rate has led critics to pan the stimulus as poorly designed, perhaps even useless. The Obama economic team, after all, had predicted early this year that the stimulus might cap the jobless rate at 8 percent. Instead, joblessness kept right on rising.
Stimulus supporters take a different view. The problem is not that it has failed, but that job-market woes proved to be deeper than many economists had expected. These economists say the answer is to stay the course – to spend the remaining $611 billion in stimulus funds. Some even call for a large additional boost in federal spending.
---