Five questions that could decide fate of healthcare reform bill
Senate healthcare reform bill needs 60 votes to advance. Here are five questions that could determine whether Democrats will rally around it.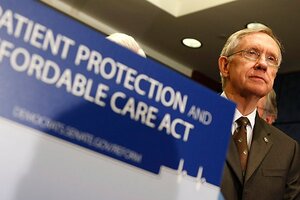 Kevin Lamarque/Reuters
Washington's struggle over healthcare reform – President Obama's top domestic priority – now is within days of a historic turning point.
Senate majority leader Harry Reid says he plans to bring his newly unveiled, 10-year $848 billion healthcare overhaul bill to the Senate floor as early as Saturday. Senator Reid will need all of the chamber's 58 Democrats, plus its two independents, to stand with him on key votes if the legislation is to proceed.
Such cohesiveness is not foreordained. Here are five questions, the answers to which will go a long way toward determining Reid's ability to succeed:
1. Where's Blanche? Some moderate Democratic senators have yet to commit to voting in favor of letting debate on the bill to begin. In particular, Mary Landrieu of Louisiana, Ben Nelson of Nebraska, and Blanche Lincoln of Arkansas, have expressed varying degrees of skepticism about the costs and possible government intrusiveness related to healthcare reform.
---