Obama in Asia? Healthcare reform? Nope. It's Sarah Palin week.
Love her or loathe her, nearly everyone was mesmerized by Sarah Palin this week, as her book, 'Going Rogue' was released. Why can't Americans get enough of Sarah Palin?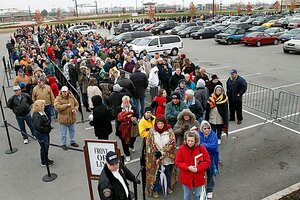 Sam Riche/The Indianapolis Star/AP
No doubt about it, this has been Sarah Palin's week. Not Barack Obama's, with his splashy tour of Asia. Or Harry Reid's, following the at-long-last release of the Senate healthcare plan. Palin even trumped Oprah Winfrey. Though leave it to Oprah to get in on the action.
No, the hoopla surrounding this week's release of Ms. Palin's memoir, "Going Rogue," has crystallized her as one of the great American celebrities of modern times.
Plucked from obscurity by John McCain, another politician famous for going rogue, the former governor of Alaska and vice presidential nominee has given our People-magazine-saturated culture exactly what it craves: beauty, drama, and enough everyday-ness to give average Joes and Janes something to relate to: a late-in-life baby with special needs, a rogue near-son-in-law, family photo albums that scream small-town America.
And, to keep the political press on its toes, she has left open the door to a possible run for the presidency in 2012. Not that most Americans think she'll ever make the White House. A recent CNN/Opinion Research poll found that 71 percent of voters see her as "not qualified to be president." But she does do well in early polls gauging who Republicans want as their nominee.
---