Senate OK's David Hamilton to be US appeals court judge
Judge David Hamilton is elevated to the US appeals court, after GOP effort to stall a vote failed. Republican resistance signals more political fights are likely over Obama's nominees to the federal bench.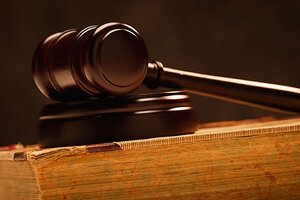 Newscom
The US Senate voted 59 to 39 on Thursday to elevate Judge David Hamilton from his current job as chief judge at the federal courthouse in Indianapolis to a seat on the Seventh US Circuit Court of Appeals.
The vote comes eight months after Judge Hamilton was nominated to the Chicago-based appeals court.
Hamilton drew the first significant Republican opposition to a judicial nominee by President Obama. An attempted filibuster on Tuesday failed, with Sen. Jeff Sessions (R) of Alabama able to muster only 29 votes. Seventy senators agreed to allow the nomination to move forward to Thursday's vote.
The Hamilton nomination was being closely watched for indications of whether the kind of fiery confirmation battles waged by Democrats against Bush nominees would now be waged by Republicans against Obama nominees. The answer is yes.
Moderate or activist?
Democrats have portrayed Hamilton as a judicial moderate and a consensus nominee. Republicans have highlighted some of his more controversial opinions – striking down as unconstitutional the opening prayer at the Indiana House of Representatives and blocking a state informed-consent abortion law for seven years. They say these and other decisions suggest Hamilton will be a liberal activist on the appeals court.
Senate Judiciary Committee Chairman Patrick Leahy (D) of Vermont said the judge had been the target of Republican delaying tactics and unfair distortion of his record.
---