Fort Hood shooting splits America over Islamic terror motive
Army Maj. Nidal Malik Hasan is charged with 13 counts of murder in the Fort Hood shootings. Was it a 'killing spree' or 'terrorism,' and is the question more than political?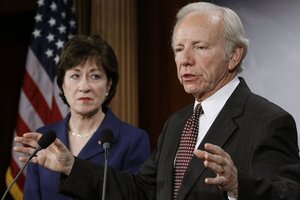 Alex Brandon/AP
As US Army Maj. Nidal Malik Hasan faces his first court hearing in a San Antonio hospital, America is split over a fundamental question: Is Hasan an Islamic terrorist?
Maj. Hasan, who allegedly killed 13 and wounded dozens during a Nov. 5 rampage at Fort Hood, Texas, is charged with 13 counts of murder, which could lead to a death penalty conviction at an Army court martial. Terror charges have not been filed.
Pending a series of legislative, Army, and Defense Department investigations into the rampage, the Obama administration has resisted the "terror" label. And one new poll shows slightly more Americans agreeing that the Fort Hood shooting was a "killing spree" rather than "an act of terrorism."
But some US lawmakers see the terrorism analogy as fundamentally important to the inquiry -- not just into Hasan's motivations, but to national security generally in the Fort Hood aftermath.
At Senate hearings this week, some witnesses testified that "political correctness" undermined efforts to pinpoint Hasan and neutralize him before the shooting.
---