America the jobless: Ron Paul wins, Timothy Geithner loses?
Frustration at how Washington has managed the 'jobless recovery' is turning some members of Capitol Hill against Treasury Secretary Timothy Geithner – and in favor of a controversial measure by Rep. Ron Paul.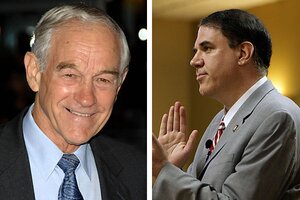 Newscom, John Raoux/AP
America is angry about the economy, and the biggest winners could just be Congress's odd couple: Reps. Ron Paul (R) of Texas and Alan Grayson (D) of Florida.
Mr. Paul, the far right former presidential candidate, and Mr. Grayson, the far left rabble-rouser who said the Republicans' healthcare plan was for ill people to "die quickly," are Congress's two biggest critics of the Federal Reserve.
On Friday, Paul leveraged public frustration at Washington's management of an apparent "jobless recovery" – and the mounting pressure on Capitol Hill to do something – to push through a controversial amendment to rein in the Federal Reserve.
The amendment is just one of several indicators suggesting that, even as the Senate enters intense negotiations about healthcare reform, the economy – and specifically unemployment numbers – is once again percolating toward the top of the agenda.
---
Follow Stories Like This
Get the Monitor stories you care about delivered to your inbox.