Senate healthcare reform vote: 'Now, the real debate can begin'
The Senate voted Saturday to open debate on its healthcare reform bill. But it was just the first of a series of difficult votes facing Democrats going forward.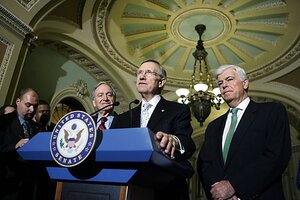 Jose Luis Magana/AP
With no Republican votes – and no votes to spare – Senate Democrats opened debate on historic overhaul of how the US healthcare system delivers services and how Americans pay for them.
The bill promises to expand access to healthcare to some 31 million Americans at no net cost to the federal government. At 2,074
pages, it's the most wide-ranging and complex bill to come before the Congress since the New Deal.
But for majority leader Harry Reid, Saturday night's 60-to-39 vote is only the first 60-vote hurdle in a long race to passing a bill in the Senate. It cleared the way for debate to begin after the Thanksgiving break. But comments made by several moderate Democrats – Democrats without whom the bill has little chance of passing – sought to infuse the historic moment with a measure of sobriety.
Their statements suggest the shape of the debate ahead for the Senate healthcare reform bill in the coming weeks: the existence of a public option and its size, ways to contain costs, and provisions about limiting access to abortion services, among other issues. At the same time, they highlight the enormity of the work that remains.
One of the last two Democrats on the fence to be persuaded to vote "yes" Saturday was Sen. Mary Landrieu (D) of Louisiana. In discussions with Senator Reid, Senator Landrieu won more than $100 million to help her state, still reeling from hurricane Katrina, to help pay for healthcare for the poor. Yet her support remained tepid.
"I have decided that there are enough significant reforms and safeguards in this bill to move forward, but much more work needs to be done," said Landrieu.
---