Patrick Kennedy communion clash reveals split in Catholic church
Rep. Patrick Kennedy said Sunday that he is being barred from taking communion because he favors abortion rights. The disagreement points to broader tensions in the Catholic church regarding abortion measures in the healthcare reform bill.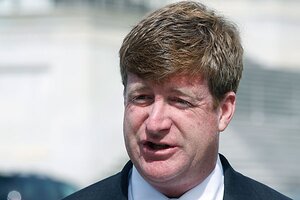 Harry Hamburg/AP/File
The public disagreement between Rep. Patrick Kennedy (D) of Rhode Island and a Providence bishop about the receiving of communion echoes larger divisions within the Roman Catholic Church regarding healthcare reform.
Mr. Kennedy said Sunday that Bishop Thomas Tobin instructed him not to take communion in 2007 because he has consistently voted in favor of abortion rights. Kennedy says the bishop further instructed the diocesan priests not to give him communion as well.
But Bishop Tobin says his direction to Kennedy was merely his spiritual guidance – not a command. In a statement released Sunday, the bishop said that he wrote to Kennedy advising him, "In light of the Church's clear teaching, and your consistent actions … I believe it is inappropriate for you to be receiving Holy Communion and I now ask respectfully that you refrain from doing so."
Tobin also told the Providence Journal that he never instructed the priests of Rhode Island not to give Kennedy communion: "If I had told 300 priests of the diocese in any format not to give communion to Kennedy or anybody else, you think that would have remained confidential?"
---
Follow Stories Like This
Get the Monitor stories you care about delivered to your inbox.