US to specify target for emissions cuts, at talks on global warming
A Senate bill's target for emission cuts is akin to level US is likely to offer in Copenhagen. Ahead of the global warming talks, other nations have been waiting to see US target.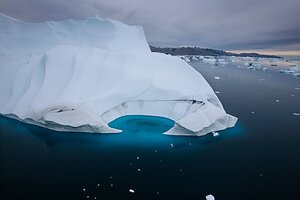 John McConnico/AP/File
The US appears ready to offer emissions-reductions targets at global climate talks next month that approximate levels in the energy and climate bill working its way through the US Senate.
Among other goals, the legislation aims to reduce greenhouse-gas emissions across the US economy by 3 percent below 2005 levels by 2012, 20 percent by 2020, 42 percent by 2030, and 83 percent by 2050.
"We don't want to get out ahead or be at odds with what can be produced with legislation," said a senior administration official Monday. "So whatever number we put on the table will be with reference to what we think can come out of the legislative process."
These levels fall short of those embraced in the negotiating blueprint that countries drew up at global climate talks in Bali two years ago. That blueprint envisions developed countries cutting greenhouse-gas emissions by a collective 25 to 40 percent below 1990 levels by 2020, and by 80 to 95 percent below 1990 levels by 2050. Developing-country emissions would have to represent a "substantial deviation" from business as usual, rather than hew to specific emissions cuts.
Those figures represent the Intergovernmental Panel on Climate Change's assessment of what needs to be done if world leaders choose to cap global warming at roughly 2 degrees Celsius (3.6 degrees Fahrenheit) above preindustrial levels.
---