Top four differences of Senate and House healthcare reforms bills
The House and Senate will have a difficult time reconciling their healthcare reform bills on several key issues, including abortion funding and a public option, among others.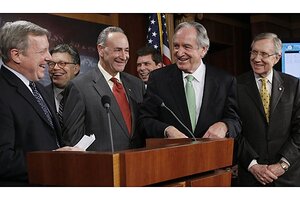 Alex Brandon/AP
Congress is closing in on a historic overhaul of the US healthcare system, decades in the making, that would extend coverage to millions of Americans, curb insurance company abuses, and potentially rein in health costs.
President Truman, a Democrat, tried to establish a system to cover most Americans. So did President Nixon, a Republican, and President Clinton, a Democrat. All failed under fire from outside groups and weakened by rifts within the Congress.
This time, Democrats, convinced that success on this bill is vital to the Obama presidency, are going it alone. A party-line vote on such a sweeping bill is a high-risk strategy for Democrats. It exposes rifts in their ranks, and the deals that make a Senate bill possible could unravel what worked in the House.
Even with an 81-seat majority, House Democrats passed their reform plan with just two votes to spare. It's even tougher in the Senate, where Democrats plus the two independents that caucus with them have a 60 to 40 majority. On paper, that's the 60 votes they need to overcome a filibuster, but with no GOP support, they can't lose a single vote. On Nov. 21, the majority won a key procedural vote to bring the bill to the floor by the narrowest of margins, 60-39.
Debate on the Senate bill is expected to begin Nov. 30. If the Senate passes its bill, here are potential flash points between the House and Senate:
A Public Option
---