US economy: revised GDP numbers raise specter of a relapse
New GDP figures released Tuesday suggest that the US economy is growing more slowly than initially thought. Obama warns that loss of confidence could lead to a 'double-dip' recession.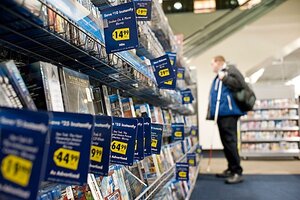 Sarah Beth Glicksteen / The Christian Science Monitor
The US economy grew at a 2.8 percent annual pace in this year's third quarter, slower than initially estimated, the Commerce Department reported Tuesday. This adds to concerns about the pace of recovery, with some forecasters warning that the economy could relapse into recession next year.
President Obama raised this "double-dip" scenario in comments on the economy last week. He talked of the need for federal efforts to spur job creation, but added that "if we keep on adding to the debt … people could lose confidence in the US economy in a way that could actually lead to a double-dip recession."
Most forecasters predict that the economic recovery will continue next year, but at too tepid a pace to generate significant job gains. And they say that a double-dip is possible, though not necessarily for the reason Mr. Obama cited.
Economist Mark Zandi sees a 25 percent chance of recession next year, and says the risk is significant enough that policymakers should take precautions with additional stimulus efforts.
"It's important to avoid that scenario," says Mr. Zandi, chief economist at Moody's Economy.com in West Chester, Pa. "It would be very difficult to get out."
Call for additional economic stimulus
Speaking in a recent conference call with reporters, he cited two reasons:
---