Obama team battles to portray healthcare reform as cost-cutting
House and Senate bills on healthcare reform include most cost-cutting ideas that have surfaced in recent years, asserts Obama's budget director.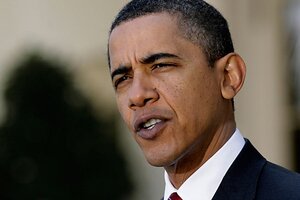 Yuri Gripas/Reuters/File
The Obama administration is battling to persuade a skeptical public that healthcare reform legislation will help to curb the runaway cost of medical care.
The White House effort could be pivotal as Senate lawmakers consider how to refine their bill ahead of what promises to be a narrow-margin vote.
"I'm very pleased with how [the Senate and House bills] are shaping up ... in cost containment," Nancy-Ann DeParle, the administration's health reform director, said in a news briefing Wednesday.
Peter Orszag, the White House budget director, said the legislation is expected to incorporate most of the major cost-control ideas that have emerged in recent years. Those include:
• Moving toward a "bundled-payment" system in which providers are paid for overall care – not for each test or procedure they perform.
• Starting to track what treatments work better than others (which could nudge hospitals toward more efficient care).
• Digitizing medical records to improve efficiency.
• Forming a Medicare commission to curb rising costs in the program that covers older Americans – and that accounts for a large share of expected federal budget deficits in the future.
The pre-Thanksgiving healthcare push comes at an important moment. The Senate is about to dig into the details of its bill, polls suggest that voters are wary about the prospect that costs will go up rather than down, and the calendar is ticking quickly toward an election year in which a voter focus on the economy could undercut momentum for healthcare reform.
---