White House party crashers fit a new mold: Fame at all costs
On the heels of 'Balloon Boy,' the White House party crashers reveal that all the world is an episode of 'Punk'd'.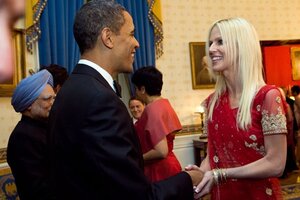 Samantha Appleton/White House Photo
Tareq Salahi, a polo-playing winemaker, and his wife, Michaele Salahi -- the White House crashers who sashayed into the most closely guarded party in the world -- fall into an emerging mold: Those who'll risk jail time for a fleeting shot at fame.
So why are people crashing the White House and setting off silver helium balloons for a show? Call it the Punk'd Age, where propriety cries out for a good prank and where all the world -- even the White House -- is a stage. And as "Octomom" has shown, getting noticed works.
Harry Shearer, the radio host and himself a famous guy, takes note on the Huffington Post: "It was obvious something was adrift, or ajar, when the phrase 'reality-TV star' began to be written and uttered with no trace of irony, even as more and more of these folks became involved this year in various serious crimes."
The Salahis follow in the footsteps of others desperate to shake their obscurity in order to become one of a rather crowded field of household names.
The "Octomom," Nadya Suleman, parlayed an in-vitro procedure and an Angelina Jolie obsession into a pop culture phenomenon and a lucrative British documentary. Colorado dad Richard Heene, who falsely claimed that his son had boarded an errant breakaway helium balloon, pleaded guilty to a felony after admitting it was all a hoax intended to drum up buzz for a potential TV show.
---