Three questions Obama must answer in Afghanistan speech
President Obama has not talked about Afghanistan much since March. Starting with his speech laying out a new Afghanistan plan Tuesday, he'll have to start making up for lost time.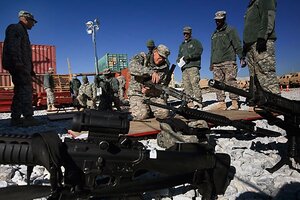 Musadeq Sadeq/AP
In making a case for the expansion of the war in Afghanistan Tuesday, President Obama will take up the difficult sales job he has so far largely avoided.
During his term as senator and as a candidate for president, Mr. Obama spoke of Afghanistan in urgent terms, saying during the 2008 campaign: "If another attack on our homeland comes, it will likely come from the same region where 9/11 was planned."
Yet such rhetoric has been in short supply since he took office.
Since Obama announced his "comprehensive, new strategy for Afghanistan and Pakistan" in March, the Pentagon has steadily undertaken the massive task of reorienting its war-fighting capabilities toward Afghanistan. But with the exception of a few minutes during an August speech to Phoenix veterans, Obama has largely steered clear of any signature defense or explanation of his own policy.
Tuesday, he will have to make up lost ground.
As the president has focused his bully pulpit primarily on healthcare but also on jobs, economic reform, and energy policy in recent months, the Afghan war – and Obama's handling of it – has lost support among many Democrats in Congress as well as Americans in general.
A USA Today/Gallup poll released last week found that 55 percent of Americans disapprove of how he is handling the war, while 35 percent approve. That marks a reversal from July, when 56 percent of respondents approved, according to USA Today/Gallup.
---