Mike Huckabee granted clemency to suspect in cop-killing ambush
Police are looking for Maurice Clemmons in connection with the shooting deaths of four policemen in suburban Seattle Sunday. As Arkansas governor, Mike Huckabee granted Clemmons clemency in 2000.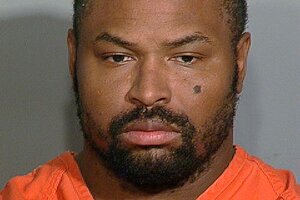 REUTERS
If Republican Mike Huckabee makes a run for the presidency again in 2012, this week will have made his potential road to the White House a bit rockier.
During his time as governor of Arkansas, Mr. Huckabee granted clemency to Maurice Clemmons. Police are now seeking Mr. Clemmons for questioning in the shooting death of four police officers in Washington State.
Clemmons's criminal history includes at least five felony convictions in Arkansas and another eight felony charges in Washington, according to the Seattle Times. He was released from police custody last week after posting bail for a pending charge of second-degree rape of a child.
This the second time Huckabee has been criticized for his role in releasing a criminal who later went on to offend again, and it echoes 1988, when the crimes of a furloughed convict undermined the presidential aspirations of Michael Dukakis.
"The murder of a police officer is the worst of all murders in that it is an assault on every citizen and the laws we live within," Huckabee said in a statement on his PAC website late Sunday.
But he also pointed out that many departments share responsibility for Clemmons's release.
"Should he be found to be responsible for this horrible tragedy, it will be the result of a series of failures in the criminal justice system in both Arkansas and Washington State," the statement read.
---