DC votes to allow gay marriage, but issue not settled
DC councilors voted Tuesday on the gay-marriage measure, but another vote will take place in the coming weeks. Congress could also intervene.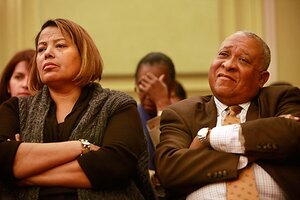 Jacquelyn Martin/AP
The District of Columbia is poised to join five states that have legalized same-sex marriage.
Washington city councilors voted Tuesday to allow gay marriage, but a second vote is scheduled in the coming weeks and Congress could intervene.
If a coalition of gay-marriage opponents have their say, the issue will eventually be decided by a referendum. So far in the United States, same-sex marriage has been rejected every time it's been put to a popular vote. In total, voters in 31 states have rejected gay marriage.
"The battle will not be over until the people get a chance for their voices to be heard," says Bishop Harry Jackson, who heads a coalition against the city's measure. "The reality is that 53 percent of Americans believe that same-sex marriage should not be the law of the land."
His group's polling shows that gay marriage would not win at the ballot box in Washington.
Bishop Jackson says he will also lobby Congress, which has the power to reverse any laws adopted by the council within 30 days of passage. While Congress passed the 1996 Defense of Marriage Act, which denies federal recognition of same-sex marriages, most analysts doubt that Republicans can persuade enough Democrats to block the marriage law.
For gay-rights groups, Washington would be an important and symbolic victory, especially after voters in Maine reversed the same-sex marriage law there last month.
---