Report: Obama's stimulus plan is creating new jobs
The nonpartisan Congressional Budget Office reported Tuesday that the stimulus has yielded between 600,000 and 1.6 million new jobs. But the stimulus's overall economic impact is uncertain, it said.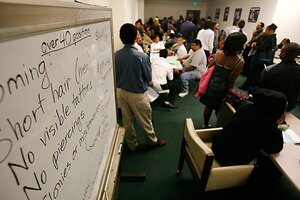 Mario Anzuoni /Reuters
Federal stimulus programs are sustaining as many as 1.6 million jobs this year, the nonpartisan Congressional Budget Office says in a new report.
The assessment comes after weeks during which the White House has faced skepticism about its claims that the American Recovery and Reinvestment Act (ARRA) has created or saved more than a million US jobs.
Although the CBO report stamps the White House estimates as credible, it's not a full-fledged endorsement of the Obama administration view.
The study's larger message is that the Main Street impact of the $787 billion stimulus is very hard to gauge. The White House might be right. Critics who say the stimulus is doing nothing for jobs are probably wrong. But beyond that, the CBO's margin of uncertainty is huge.
Citing different estimates of how effective the stimulus is, Congress's economists say the number of jobs created could span anywhere from 600,000, at the lower end, to the 1.6 million high-end figure.
Obama's job-creation summit
With the unemployment rate now above 10 percent, President Obama is holding a summit with business leaders later this week on job creation. And congressional Democrats are piecing together legislation for early next year to bolster the Recovery Act with additional job-creation efforts.
---