Senate healthcare debate Day 2: partisan warfare by amendment
The US Senate began voting Tuesday on amendments and counter-amendments to the healthcare reform bill, as senators battle to shape the final product.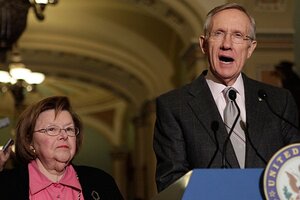 Pablo Martinez Monsivais/AP
Tuesday was a big day on Capitol Hill, with the full US Senate set to start voting on historic healthcare reform legislation.
At this early stage, the votes are to approve or strike down proposed legislative amendments. In coming days senators will have to grind through lots of these, as members of both parties line up to try and shape the final product.
And healthcare reform still has a long roller coaster ride to go – through the Senate, to a conference committee, and back again to both Senate and House – before it becomes law, or flies off track to defeat.
"There are rough times ahead," predicted Henry Aaron, a senior fellow in health affairs at the Brookings Institution, as the Senate began its work.
Senate debate on Tuesday began at around 2:15 pm, and quickly formed along expected lines. Sen. Charles Grassley (R) of Iowa, ranking minority member on the Finance Committee, led off by complaining about the size and possible expense of the effort, layered on top of federal bailouts of banks and auto firms.
Sen. Richard Durbin (D) of Illinois, assistant majority leader, responded by calling the bill "monumental, historic". He charged that some in the GOP were just trying to protect the profits of private insurers.
---