Financial bill to rein in Wall Street. Will it be tough enough?
Regulations in a House financial bill would mean the most significant overhaul of the financial-services industry since the New Deal.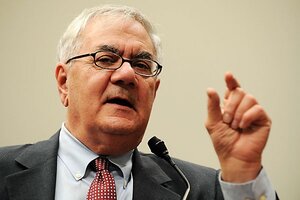 Jonathan Ernst/Reuters
A year after a near collapse of the financial system and a historic $800 billion taxpayer bailout, Congress is reworking its terms of engagement with Wall Street.
The stakes for the financial sector couldn't be greater. After years of relatively little regulation, Congress is considering the most significant overhaul of the industry since the New Deal on issues ranging from executive salaries and transparency for derivative trades to new powers for federal regulators to break up companies deemed "too big to fail."
But despite the fact that the financial services industry is a virtual ATM machine for congressional campaigns, the legislation on track in Congress has Wall Street on the defensive. Financial interests won important exemptions in committee, but consumer groups rallied support to remove them on the floor.
The House Financial Services Committee today passed the last leg of a comprehensive reform package to ensure that massive financial firms never again threaten a system-wide crisis -- or require taxpayers to bail out "Wall Street's reckless actions," as the congressional panel put it.
The bill empowers an inter-agency oversight council to identify and more strictly regulate financial firms posing a systemic risk to the system -- powers that federal authorities did not have when faced with the collapse of American International Group Inc. (AIG) or Lehman Brothers in 2008.
Sweeping regulatory powers
---