New York state Senate rejects gay marriage, focus turns to N.J.
The 38-to-24 vote in the New York state Senate is a fresh and stinging defeat for gay marriage, which was also recently rejected in Maine. Now, the New Jersey legislature might take up this issue.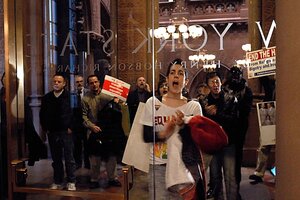 Tim Roske/AP
After a heated and often emotional debate about same-sex marriage in the New York state Senate, lawmakers rejected a bill that would have made that state the sixth to legalize gay marriage.
While New York Gov. David Paterson backed the bill – and the state Assembly already passed it – Democratic supporters needed some Republican aid to pass the marriage law. No GOP lawmakers voted for the bill, which failed in a 38 to 24 vote.
"It's certainly disappointing," Richard Socarides, who served as President Clinton's adviser on gay rights, told the Associated Press. "I'm surprised that it was not closer. We'll have to take a hard look at what went wrong."
Gay rights advocates have long been pushing New York lawmakers to take up the marriage question. The sate already recognizes same-sex marriages that have been performed in other states. In anticipation of the measure being taken up in New York, advocacy groups on both sides of the issue have been lobbying lawmakers.
"This is a huge win, it puts the nail in the coffin on the idea that gay marriage advocates can persuade a majority of Americans their cause is just," said Brian Brown, executive director of the National Organization for Marriage (NOM), in a statement. "New York makes it crystal clear: the American people do not support gay marriage and they do not want their politicians messing with this issue."
---