Obama's lonely road in Afghanistan
President Obama's speech Tuesday laid out a troop surge for Afghanistan along with an exit plan, a combination approach that is unlikely to fully please or anger anyone.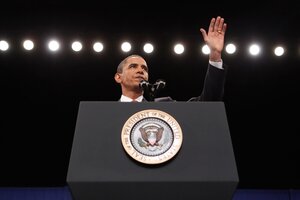 Charles Dharapak/AP
Afghanistan is now President Obama's war.
When his just-announced rapid deployment is complete, the president will have sent more than 50,000 US troops to the country since taking office – more than 21,000 earlier this year and now 30,000 more. This represents a dramatic escalation from the 35,000 US forces who were in Afghanistan at the start of Mr. Obama's term.
But mindful of history, and a wary public, the president on Tuesday night also laid out an exit strategy, a plan to begin withdrawing in July 2011. In sum, Obama has presented a mixed message that neither pleases nor alienates any group fully.
"He's trying to have it both ways," says Bruce Buchanan, a political scientist at the University of Texas, Austin.
Those on the left who sharply oppose the escalation can at least look to the withdrawal date (though Obama did not say what he would do if Afghanistan looks unprepared for a US drawdown when the time comes). Those on the right can point to the big influx of troops – which, combined with additional NATO forces, will give commanding Gen. Stanley McChrystal what he wanted – as a sign of Obama's commitment to a war he has called necessary.
---