House extends estate tax - a blow to Bush-era plan to abolish it
The House voted Thursday to continue the estate tax – an attempt to foil the Bush-era cuts that would have led to the expiration of the estate tax in 2010. But complications remain.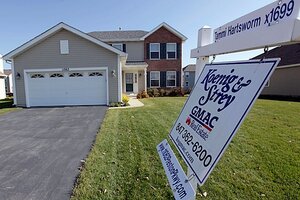 M. Spencer Green/AP/File
The House voted Thursday to extend the current estate tax indefinitely, which would otherwise have expired at the end of the year. It makes this year's rates permanent – 45 percent tax rate for estates over $3.5 million for individuals and $7 million for couples
The vote marks the first skirmish over Bush-era tax cuts, which are all set to expire in 2010, though it brings only a degree of clarity to a complicated issue.
In order to avoid an expiration of the tax, the Senate must also vote before Dec. 31. But that is unlikely with the Senate tied up with healthcare reform. A likely option is a temporary extension of the current law that would tide the Senate over until it can take up the issue more fully.
Otherwise, if Congress takes no action, the estate tax would end on Dec. 31, then spring back in 2011 at a higher rate – 55 percent – for estates of more than $1 million. That means that a $5 million taxable estate would have a liability of $675,000 in 2009, $0 in 2010, and $2 million in 2011, according to Deloitte Tax in Washington.
Most Republicans and antitax groups backed this Bush-era strategy because they felt certain Congress would not allow the higher rate to kick in in 2011, and would instead vote next year to make the expiration of the estate tax permanent.
"The history of the Bush tax cuts is that it's very difficult to reinstitute any of these cuts once you get it in the public mindset that these tax cuts are meant to be permanent," says Robert Bixby, executive director of the Concord Coalition, a fiscal watchdog group.
Financial clarity or a 'death tax'?
---