Senators grill Fed's Ben Bernanke over bank bailouts
At confirmation hearings for Fed Chairman Ben Bernanke Thursday, some senators decried bailouts of 'too big to fail' firms. Others said the economy would be in worse shape without the Fed's actions.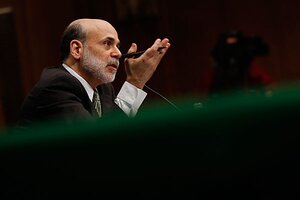 Jason Reed/Reuters
At a Thursday hearing about his nomination for a second term as Federal Reserve Chairman, Ben Bernanke walked a careful line – defending his performance but also acknowledging mistakes and calling for regulatory reforms.
It appears likely that Mr. Bernanke's sales job will succeed and that he'll be confirmed to serve another four years starting 2010. Some senators said the economy would be in much worse shape without Bernanke's efforts over the past year.
Still, he faced heated questions from others. The contrasting views on the Bernanke Fed are like a Rorschach test on the financial crisis.
A focal point at the hearing was the challenge known as "too big to fail." The financial system nearly collapsed last fall when some of the world's biggest banks seemed to be at risk of a simultaneous meltdown, amid fears that a run on banks by investors was spreading. Bernanke and other policymakers decided that those firms were so important they could not be allowed to fail. But a long-known problem is that bailouts can breed "moral hazard," the risk that large banks will behave irresponsibly again, based on the expectation that bailouts will occur when needed.
Reinforced 'too big to fail'?
In response to a question Thursday, Bernanke said this is "perhaps the central issue in financial reform."
Yet Bernanke also supported last year's bailouts, which may represent a historic expansion of the "too big to fail" problem.
The nation's largest banks haven't become any smaller as a result of the crisis. Through mergers, in fact, some of the largest banks such as JPMorgan Chase and Bank of America are now even bigger. And the notion that they can get bailed out in a crisis has been reinforced.
---