Desiree Rogers a focus of White House party crasher probe
Lawmakers of both parties want White House social secretary Desiree Rogers to appear before Congress. White House refusal amounts to 'stonewalling,' some say.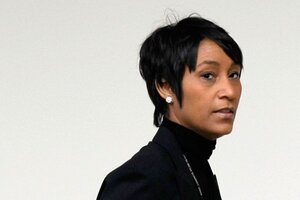 J. Scott Applewhite/AP
There's growing pressure on the White House to allow social secretary Desiree Rogers to appear before a congressional committee to explain why a couple without an invitation managed to crash last week's state dinner for the prime minister of India.
A number of Republican lawmakers already have been pushing for Ms. Rogers to appear, saying that administration refusal to produce her has amounted to "stonewalling."
On Friday a Democrat who is a member of the House Homeland Security Committee emphasized that she, too, thinks Rogers should tell lawmakers in a public forum why the social secretary's office did not assign someone to each entry site into the dinner, to ensure attendees actually were on the guest list.
Rep. Loretta Sanchez (D) of California told the "Today" show that Congress had a right to such information. And she professed surprise that the White House had not conducted such a level of screening.
"Even Wal-Mart has a greeter," Representative Sanchez said.
On Thursday, the House Homeland Security panel held a hearing into the matter, in which Tareq and Michaele Salahi managed to circumvent security and enter the Obama administration's first state dinner.
---