Five reasons Mark Sanford might last as South Carolina governor
South Carolina's embattled governor, Mark Sanford, could yet face impeachment, but he got a lift this week when most ethics charges against him were dropped.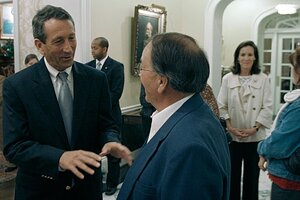 Brett Flashnick/AP
Now that a South Carolina impeachment panel has dropped the bulk of charges against Gov. Mark Sanford, the embattled pol seems to have won a major victory in his refusal to yield control of the governor's mansion.
What began when the governor went missing in June, ostensibly on a hiking trip in the Appalachians, turned into a potentially impeachable offense when he returned five days later from Argentina, fresh from an extramarital affair. Since then, political opponents dredged up what would become fodder for an impeachment attempt, which could still come Monday.
But on Thursday, the ammunition for the impeachment – charges that Mr. Sanford misused state travel funds and a state plane – largely fell apart as a House impeachment panel dismissed 28 of the 37 ethics complaints about the governor's use of travel funds.
"Much of it, we don't believe, constitutes a violation at all," said the committee chairman, state Rep. James Harrison (R). "The ones that might constitute a violation don't rise to the level of impeachment."
In that light, here are five reasons Sanford, a Republican, just might survive to see the end his term:
The love letters. The governor's emotional attachment to former Argentinian TV anchor Maria Chapur, while inappropriate, seems genuine and deep – a factor that may have made him a more sympathetic figure in the eyes of some South Carolinians.
---