Senate healthcare reform debate: Week 1 down, how many more to go?
One week into the Senate healthcare reform debate two things are clear: Democrats don't have their 60 votes, and the end is not coming anytime soon.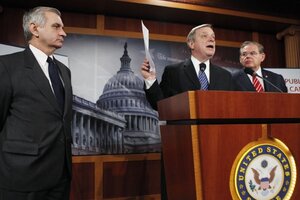 Manuel Balce Ceneta/AP
The Senate has debated historic healthcare reform legislation for a week now. What have we learned?
Two basic points seem clear, following the drone of five days of Senate speeches and a handful of votes:
1. The Senate Democratic leadership does not yet have the 60 votes needed to pass the bill with a filibuster-proof majority. If Senate majority leader Harry Reid of Nevada had the support, he would cut things short and call the question. Instead, the Democratic caucus continues to discuss internally possible compromises related to the bill's two key political issues: abortion coverage and a government-run "public option" insurance plan.
2. The whole thing is going to take even longer than most people thought. This is partly due to the sweep and complexity of the bill and to the difficulties inherent in trying to forge consensus on controversial items, even among members of the Democratic Party. Democrats complain it is also partly due to stalling tactics on the part of Republicans.
"We had hoped for a much different approach.... Republicans are not being forthcoming in either allowing us to vote on our own amendments or in offering their own," said Sen. Richard Durbin (D) of Illinois, assistant majority leader, Friday in a conference call with reporters.
Right now, the Senate is bumping along at a pace of dealing with about one amendment per day. Though more votes seemed likely late Friday, the pace is still so slow that it equates with finishing in perhaps May – of 2011.
When the way forward on the most contentious parts of the bill seems clearer, the speed is likely to pick up. Even so, majority leader Reid is now carrying through on his threat to make the Senate work on weekends, continuing the debate.
The one exception Reid is willing to make is to let senators have time to attend church services.
---