Police interrogation: Do you know your lawyer can be present?
The US Supreme Court is considering a Florida case in which the defendant – and Florida courts – said he hadn't been adequately informed that his lawyer could be present.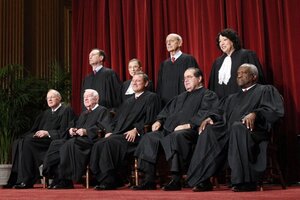 Jim Young/Reuters
Law enforcement officials are required to warn criminal suspects that they have a right to remain silent and a right to talk to a lawyer before an interrogation. But what happens if the police fail to mention a suspect's right to have a lawyer present during the interrogation?
That's the question at the center of a case set for argument at the US Supreme Court on Monday.
At issue in Florida v. Powell is whether the Florida Supreme Court ruled correctly when it threw out Kevin Dewayne Powell's gun possession conviction because police failed to advise him of his right to have a lawyer with him to offer advice during his interrogation.
Mr. Powell was arrested in August 2004 by Tampa police during a robbery investigation. Police found Powell at his girlfriend's apartment. During a search they found a loaded pistol under a bed.
Powell was a convicted felon with ten prior offenses and could not lawfully be in possession of a firearm.
After discovering the gun, police arrested Powell and took him to headquarters for questioning. Prior to the interrogation police read Powell his Miranda warnings. They included the sentence: "You have the right to talk to a lawyer before answering any of our questions." The warning also included: "You have the right to use any of these rights at any time you want during this interview."
He confessed to owning the gun
---