Three lessons shaping society after Virginia Tech massacre
Guns on campus, active shooter scenarios, and state culpability are all still changing society's preparedness.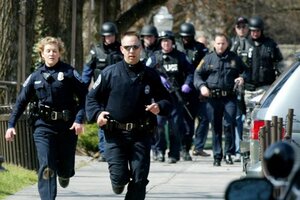 Matt Gentry/AP/File
Virginia Gov. Tim Kaine said Friday that the Virginia Tech rampage that killed 32 people plus the shooter two years ago was "by its nature inexplicable."
But no matter how tough to explain, the tragic massacre by a deranged student continues to have a significant impact on US society, ranging from debates about concealed-carry guns on campuses, police response to "active shooters," and -- more specifically -- the question of Virginia Tech's culpability in the deaths of students and professors at the hands of the shooter, Seung-Hui Cho.
In just the past few weeks, three developments touched directly on how the deadliest peacetime shooting in US history by a single gunman continues to spark debate and shape society:
New details anger parents
Acknowledging stubborn questions brought up by victims' families, the state of Virginia on Friday released an addendum to the Virginia Tech Review Panel's final report.
Basically a clarification to the original report, the correction changed the timeline of the university's response, pointing out that university officials failed to alert the campus of a "shooter on the loose" for two hours even as they locked down university offices and at least two staffers informed their own families of the first shooting, at Ambler Johnston Hall. The new report also notes that the university cancelled trash collection 20 minutes before alerting the campus.
---