Obama's Senate visit moves Dems closer to healthcare reform deal
President Obama visited Senate Democrats Sunday during a rare weekend session. He encouraged Democrats to pass a healthcare reform bill, and they appear to be making slow progress toward that goal.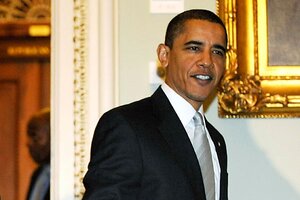 Jonathan Ernst/Reuters
During a rare weekend session of Congress, President Obama met with Democrats just off the Senate floor today to boost momentum for a "historic" healthcare reform that requires every one of their votes.
The president stuck to inspirational themes. He did not take questions or set a timetable. Nor did he propose how the 60-member
Democratic caucus should resolve with the issues that most divide them: funding of abortion and a public option.
But Democratic senators hinted at a softening of hard lines within the caucus, which could lead to new options for a compromise on both issues. Leaving the mid-afternoon session, some added that the caucus is getting close to the 60 votes needed to block a Republican filibuster.
"We didn't expect him to come up here with the secret plan for saving the bill. We're not looking for that. We need his help to work
through some controversial issues and he has been there every time we've called," said Sen. Richard Durbin (D) of Illinois, the deputy Democratic leader. "We're close to getting this done."
The most telling indicator that the tide may be shifting on the bill is that majority leader Harry Reid is scheduling the tough votes on the Senate floor. If he was unsure he had the votes to carry a measure, he would most likely not put it on the schedule.
---