EPA rules that greenhouse gases are harmful to human health
The EPA's announcement Monday advances two goals: It gives the US more clout at the Copenhagen UN global warming summit, and it nudges Congress to pass new greenhouse gas regulations.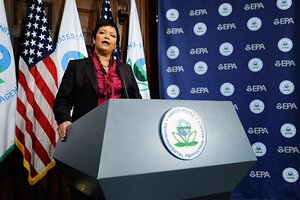 Jonathan Ernst/REUTERS
The US Environmental Protection Agency today announced its final determination that greenhouse gases are a hazard to human health – a widely expected move whose less-than-expected timing came on the first day of climate talks in Copenhagen, Denmark.
The EPA move is likely to give the US negotiating clout at the summit overseas. But it is also seen as the "stick" part of a carrot-and-stick approach that many observers say the Obama administration is using to nudge Congress toward new climate-energy legislation. If the Senate – where the bill is bogged down – won't act, then it's clear the EPA now stands ready to regulate carbon dioxide emissions, analysts say.
"This administration will not ignore the science or the law any longer," Lisa Jackson, EPA Administrator said at a press conference in Washington this afternoon. "Nor will we avoid the responsibility we owe to our children and grandchildren."
Latest of many changes
While announcing no new timetable for emissions regulations, Ms. Jackson said it was the next logical step for her agency. It undergirded several moves already begun by the administration during the past 11 months, including:
---
Follow Stories Like This
Get the Monitor stories you care about delivered to your inbox.