Nelson amendment fails, but healthcare abortion battle isn't over
The Senate defeated the anti-abortion Nelson amendment Tuesday. But President Obama has not made abortion rights a priority in healthcare reform, so the issue remains in play.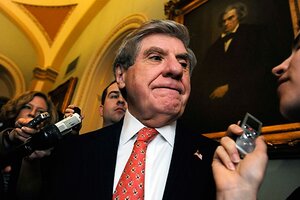 Jonathan Ernst/Reuters
The Senate voted Tuesday to reject the strict antiabortion Nelson amendment to healthcare reform, but the abortion issue is still very much a factor as Democratic leaders seek to pass reform by Christmas.
Sen. Ben Nelson of Nebraska, the lead Democrat backing the abortion restrictions, has said that he would oppose healthcare reform legislation that does not ban abortion coverage for women who receive federal subsidies to purchase private insurance. The amendment, which duplicated a provision by Reps. Bart Stupak (D) of Michigan and Joseph Pitts (R) of Pennsylvania that passed in the House version of reform, also would have barred abortion coverage in any government-run health plan.
The Nelson amendment was defeated 54 to 45.
Democrats' options
In order for Senate Democrats to overcome a filibuster on the final reform bill, they need all 60 members of their caucus – including Senator Nelson – to vote "yes." If the caucus loses Nelson, Democrats will have to find a Republican to join them (perhaps one of Maine's pro-abortion-rights moderates), which is no small task. They would then have to work out a compromise on abortion with the House in conference.
---