Obama jobs plan: big ideas, but a big hole to fill in hiring
Obama's jobs plan is an ambitious attempt to spur a pace of hiring that's far below normal. Small-business tax breaks, infrastructure spending, and energy efficiency are key areas.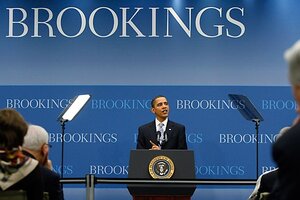 Jason Reed/Reuters
President Obama proposed a new set of job-creation proposals Tuesday designed to confront a stark problem: Even though the rate of job cuts in the economy has eased, the pace of hiring remains far below normal.
That issue – how to spur hiring – is the central one for policymakers considering how to bring down America's unemployment rate in the next year.
Mr. Obama said his proposals have the best chance to succeed, delivering the "greatest number of jobs [at] the greatest value for our economy."
His proposals came in three broad areas:
• Small business. A new temporary tax credit would go to businesses that add workers to their payrolls. Other tax breaks would encourage business investment, such as a one-year capital-gains tax rate of zero for new investments in small firms. Obama also called for continuing programs already under way to support small-business lending.
• Infrastructure. The president called for more spending on transportation and water projects in the next year, expanding the existing stimulus spending in this area by perhaps $50 billion.
• Clean energy. He proposed rebates for families to retrofit their houses to be more energy efficient. Modeled on the "cash for clunkers" scheme that boosted auto sales this year, the program has been dubbed "cash for caulkers."
The key ideas will require congressional approval, so many of the details and dollar figures must still be negotiated in coming weeks.
---