What can Nobel winner and war president Obama say about peace?
President Obama is headed to Oslo to receive his Nobel Peace Prize. It's an awkward moment. Not only is he sending more troops to Afghanistan, but most Americans don't think he deserves the award, a poll suggests.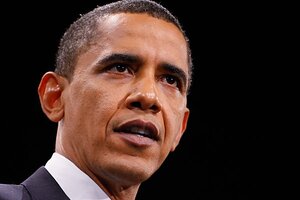 Charles Dharapak/AP
President Obama's Nobel Peace Prize episode is almost over. Wednesday night, he will board Air Force One and fly overnight to Oslo, give a speech at the award banquet, and fly home Friday. No press conference, no sticking around for the gala concert in his honor Friday night.
Obama does have a lot on his plate, and it hardly makes sense for him to spend much time in Norway. But his quick in-and-out, low-key approach also reflects the awkward nature of his surprise award, announced in October as he was beginning his review of war policy in Afghanistan and now received on the heels of his decision to launch a surge in the US military presence there.
The irony is not lost on the White House. And Mr. Obama, in his speech, will note head-on the fact that he is receiving the Peace Prize as a war president.
"The president will address the notion that last week he authorized a 30,000-person increase in our commitment to Afghanistan and this week accepts a prize for peace," press secretary Robert Gibbs said Wednesday.
---