Will Senate Democrats' healthcare reform tradeoffs seal the deal?
The healthcare reform tradeoffs reached Tuesday - no public option but expanded Medicare access - may help Senate Democrats win more moderates' votes. But it's still not clear they've got to 60.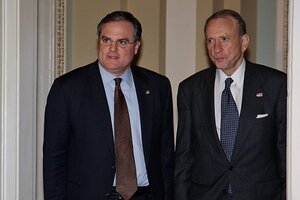 Alex Brandon/AP
With a breakthrough in negotiations announced Tuesday night, Senate Democrats are closing in on a historic overhaul of US healthcare – even if no Republicans join them.
The agreement dropped plans for a big government role in the health insurance market (aka, the public option), which had been a deal-breaker for a handful of centrist Democrats, but in exchange for that compromise it expands access to healthcare through Medicare to workers as young as 55.
Other issues remain to be resolved, notably on cost-cutting and public funding of abortion services, but the public option had been a show-stopper in the Senate.
"This has been a long journey. We have confronted many hurdles, and tonight I believe we have overcome yet another one," said Senate majority leader Harry Reid in a statement Tuesday night. "I know not all 10 senators in the room agree on every single detail of this, nor will all 60 members of my caucus ... [but] tonight we are confident."
A public-option task force
In a bid to resolve this issue, Senator Reid tasked 10 Democrats – five moderates and five progressives – to come up with a compromise that would keep all 60 members of the Democratic caucus on the bill. Lawmakers in both Democratic camps were threatening to vote down the bill over the public-option issue.
---