Left and right, pundits applaud Obama Nobel Peace Prize speech
Liberal and conservative pundits both approve of Obama's Nobel Peace Prize speech. They like his humility and his realism.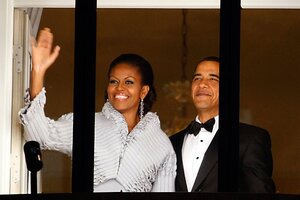 Kevin Lamarque/Reuters
If nothing else, the American punditocracy largely agreed on one aspect of President Obama's Nobel Peace Prize speech: that it was eloquent.
In offering a tutorial on just war theory, laid out in clear prose and compellingly delivered, Mr. Obama and his speechwriters showed once again that they know how to knock one out of the park.
But more noteworthy is the largely positive, or at least hopeful, tone of reaction across the political spectrum. From conservative former House speaker Newt Gingrich to writers at the liberal Nation magazine, the insta-analyses found hope in Obama's words, either in his justification for the war in Afghanistan or in his ultimate aspiration: to replace war with peace.
"I thought the speech was actually very good," Mr. Gingrich said on the WNYC radio's The Takeaway. "And he clearly understood that he had been given the prize prematurely, but he used it as an occasion to remind people, first of all, as he said, that there is evil in the world."
Sometimes a need for force
Gingrich also applauded Obama for reminding the Nobel committee that there would be no peace prize without the use of force. "A nonviolent movement could not have halted Hitler's armies," Obama said.
Progressives upset by Obama's decision to escalate US involvement in Afghanistan may not have given the president the A grades that some conservatives and others offered. But at the Nation.com, a reliable gauge of liberal thought, the reaction was not wholly negative -- a sign, perhaps, that Obama still enjoys a reserve of goodwill among his base.
---