US House passes sweeping financial overhaul
The House financial overhaul bill covers everything from financial giants to individual consumers. But lobbyists are lined up to fight it, and deals will have to be made with some lawmakers as the Senate considers its own bill.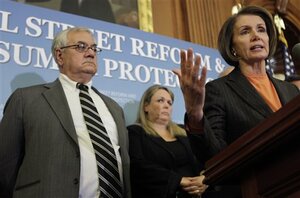 AP Photo/Pablo Martinez Monsivais
A year after the Wall Street crisis that erased trillions in savings, House Democrats passed a sweeping overhaul of the US financial system.
The sprawling bill targets the biggest financial groups and the vast, unregulated derivatives market that spawned the crisis. It also creates a new federal agency to raise the profile of consumer protection in Washington.
It's the first step in a process that now shifts to the Senate, where bipartisan teams recently began work on a draft bill for the Senate Banking, Housing and Urban Affairs Committee. Negotiations are likely to carry on into the new year.
But for the army of interest groups that has flooded Washington with lobbyists and record campaign contributions, the campaign to shape a bill more to their liking only accelerates.
It's also a legislative battle that is forcing important choices within a highly diverse congressional majority. Without a single Republican vote, Democrats had to pass this bill, including overcoming "poison pill" amendments, by cutting deals within their own ranks – a task far tougher than the final vote, 223-201, suggests.
The top priority for the financial community in this bill was to derail the proposed Consumer Financial Protection Agency – a centerpiece of the Obama Administration's approach to making consumer protection a more urgent priority for federal regulators.
---