Will House-passed financial reform bill leave big risks?
The financial reform bill passed Friday in the House spans many markets and regulatory activities. But some experts warn that the economy could remain exposed to bubbles, busts, and firms "too big to fail."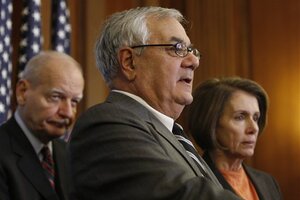 Pablo Martinez Monsivais/AP
The US House of Representatives on Friday passed a bill aimed at preventing a repeat of the financial crisis that shook the global economy in the fall of 2008. The sweeping measure would transform the regulatory landscape for banks and other financial firms.
Although it drew immediate praise from the Obama administration and consumer groups, some financial experts warn that the economy will remain exposed to the risk of bubbles, busts, and firms that are "too big to fail."
The bill spans many markets and regulatory activities:
• Creates a financial stability council of regulators to identify financial firms that are so large or interconnected that their collapse would put the entire financial system at risk. These systematically risky firms will be subject to increased oversight, standards, and regulation.
• Gives the government new powers to dismantle large financial firms that fail. Investors in those firms would be exposed to losses during such a wind-down process. But, as regulators will also be trying to protect the economy from spillover effects, some critics of the plan say large firms might receive government assistance rather than bankruptcy-style restructuring.
• Creates a new consumer financial protection agency, aimed at preventing abusive or risky lending practices such as those seen during the subprime mortgage boom.
• Gives shareholders a "say on pay" for executives, an advisory vote including executive salaries and golden parachutes. It also enables regulators to ban inappropriate or imprudently risky compensation practices, and it requires financial firms to disclose incentive-based compensation structures.
---