Houston mayor race shows progress - and limits - of gay rights
Annise Parker, who is openly gay, was elected mayor of Houston Saturday. It makes Houston the largest US city to elect a gay or lesbian mayor.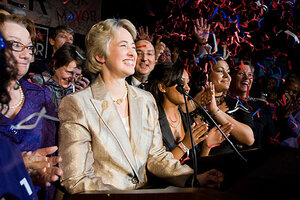 Smiley N. Pool/Houston Chronicle/AP
By electing Annise Parker mayor Saturday, Houston became the largest city in the United States to elect an openly gay candidate. More broadly, however, the city threw into sharp relief the conflicted – though not necessarily contradictory – stance that defines many Americans' attitudes toward the gay and lesbian community.
Houston chose Ms. Parker, the city controller, over Gene Locke, a former city attorney, with 53 percent of the vote. Yet, in the past, Houston has voted against extending benefits to the partners of gay and lesbian members of the city government. And Texas has outlawed gay marriage.
The distinction neatly sums up the American mood. As gays and lesbians become broadly accepted in society and politics, that acceptance is marked by a firm boundary beyond which voters do not yet appear willing to cross: same-sex marriage.
Sexuality not an issue
Saturday's election is clearly a historic moment for the gay and lesbian community, particularly in a conservative state like Texas. Sexual orientation played virtually no role in the campaign – the exception being some mailers and e-mails sent from social conservatives near the end of the race.
Though she emerged as a gay rights campaigners in the 1980s, Parker ran a race based solely on her experience as controller, saying she was the savviest choice to lead the city out of recession.
---