Federal budget: Congress's return to bad spending habits
Congress has spent all its time on other efforts, like healthcare. Now, time is running short to pass a federal budget, and Congress is having to take its typical shortcuts.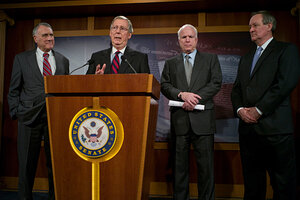 Scott J. Ferrell/Congressional Quarterly/Newscom
Congress is on a tear to wrap up spending bills, extend an otherwise expiring estate tax, and raise the national debt limit by $1.9 trillion by year's end.
Getting there will involve some of the toughest votes of the year, especially for lawmakers who won their seats on a pledge to restore fiscal balance to Washington.
The push to move the Big Three reform bills – healthcare, financial regulation, and climate change – has all but eclipsed the annual business of paying the bills to fund the government. Now those deadlines are piling up.
In a bid to avoid a government shutdown Dec. 18, the House is pushing to complete work on the fiscal year 2010 defense spending bill. As a must-pass bill, it's also a vehicle for other leadership priorities, such as a new jobs bill, a six-month extension of unemployment insurance, and a controversial debt limit increase.
The Senate on Sunday voted a $446.8 billion omnibus spending bill to fund the other five of the six remaining appropriations bills for fiscal year 2010.
The 'pork' process
It's not the year end that Democrats had hoped or that President Obama had promised. Mr. Obama campaigned to end the former GOP majority's habit of defaulting to omnibus spending bills that lump several bills into one, rather than having a robust floor debate on each individual bill.
---